Jim Black is a retired attorney who limited his practice to workers' compensation and Social Security Disability. He is on the national Board of Directors for the Unitarian Universalist for a Just Economic Community, has lead the Just Economic Action Team at his local UU congregation in Ephraim Wisconsin, helped create Door County United to Amend which seeks to undo the effects of the SCOTUS ruling in Citizens United v F.E.C. and is on the EAA Government Host Team. For recreation he flies airplanes, hikes, bikes, kayaks, cross-country skies, and snow shoes. He and his wife, Trish, of thirty-eight years live in Sister Bay Wisconsin. They have three adult children.
Rev. Jim Coakley,
Vice President
Reverend Jim Coakley serves as our vice president. His regional ministry serves four Unitarian Universalist Fellowships in Northeast Wisconsin: Appleton, Fond du Lac, Green Bay, and Stevens Point. He is a graduate of Meadville Lombard Theological School with a Masters of Divinity and was ordained in 2016. 


Molly Plunkett, Secretary Treasurer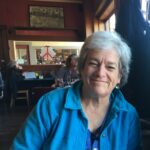 Molly Plunkett hails from Madison and Prairie Unitarian Universalist Society, which was for many years a lay led congregation but has had part time ministers more recently. She is Co-Chair of the Social Action Committee which has had a focus on homelessness. The Prairie UU building has been under renovation since 2019 and Prairie UU is now is hosting zoom services.  She retired as an attorney from the Dane County Corporation Counsel's Office.
Penny Robinson, Board member at Large
Penny Robinson is a member of the Fox Valley Unitarian Fellowship in Appleton, where she currently chairs the Justice Action Ministry (JAM) Facilitators. She has also served in leadership positions in ESTHER, an interfaith community organizing group and on the board of the Appleton LWV. Penny has experience teaching high school English and in public relations journalism. She envisions WUUSAN as a leader in uniting and organizing WI UU congregations working for much needed social justice throughout the state.
Kathy Bernhart, Board member at Large
Kathy is a retired RN currently living in Manitowoc with her husband and beloved dog. She has been active in health and social justice issues most of her life. While teaching Freedom from Smoking for the Lung Association, she became involved in the fight for clean indoor air. That success led her to believe people can influence political decisions. In 2015-16 she led a movement to place the "We the People" referendum on the Manitowoc City ballot. This request for a statewide referendum to counteract the Citizens United supreme court decision passed by 79% in Manitowoc. Currently she facilitates Stepping On classes (a falls prevention program for the elderly) for the Aging Resource Center. She just completed a year as president of the Manitowoc Sunrise Rotary. In 2010 she joined the Lakeshore Unitarian Universalist Fellowship and is currently Treasurer and part time Zoom service coordinator. Loves outdoor activities and visiting her 3 children. Unfortunately 2 of them are in Texas, so maybe next year!!!
Arthur K. Thexton, Registered Agent
Arthur K. Thexton, an "upraised UU", is a solo practitioner at Thexton Law Offices in Wauwatosa, Wisconsin. He graduated from Beloit College in 1972 cum laude, having double-majored in economics and sociology. He then attended Meadville/Lombard Theological School, and received a  J.D. from the University of Wisconsin Law School in 1977. Mr. Thexton's public service includes having worked as a city and county prosecutor, as an elected District Attorney, a police officer and police science teacher.  From 1991-2015, he was a Prosecuting Attorney for the Wisconsin Department of Safety & Professional Services (f/k/a Department of Regulation and Licensing) handling professional misconduct cases involving physicians, nurses, pharmacists, and other health care professionals. In addition to his legal work, Mr. Thexton has undergone hospital chaplaincy training, and served as a part-time night chaplain at Meriter Hospital in Madison for two years.  He served on the boards of the Wisconsin Coalition Against the Death Penalty, and the James Reeb Unitarian-Universalist Congregation (where he was a founding member).